GLOVERSVILLE-JOHNSTOWN
Joint Wastewater Treatment Facilities

2020 Joint Sewer Board

John Rizzo: Chairman
Bobbi Trudel
Christopher Vose
Craig Talarico
Wrandy Siarkowski
Chris Perry
You can also Download the Annual Report
SUMMARY
The 2020 Annual Report highlights the significant projects completed at the Gloversville-Johnstown Joint Wastewater Treatment Facility (GJJWTF). Routine assignments such as tank cleaning, instrument calibration, laboratory analysis, sample collection, general maintenance and upkeep, while important, are not identified in this report. General statistics are included to illustrate additional activities at the facility.
O & M revenues totaled $4.1 million during 2020. The adopted budget was $5.2 million. The Fund Balance at end of 2020 was $477,000.
Electrical Synopsis:
Generated
6,254,947 kilowatt hours
Purchased
189,624 kilowatt hours -- $31,677
Sold
1,297,362 kilowatt hours -- $30,011
Consumed
5,147,209 kilowatt hours $452,954 (Saved, at $0.088/kWh)
COGENS produced 100% of GJJWTF's electrical power needs, with 22% excess power.
O & M revenues totaled $4.1 million during 2020 The Industrial contribution was 51.3%, Residential 27.6% and Trucked/Pumped waste and miscellaneous revenue totaled 21.1%. The average industrial sewer bill slightly increased. The residential rate increased 1.57%. Use of $505,578 from the rate stabilization reserve fund helped to minimize the rate increase.
Belt Filter Presses operated 3,595 hours producing 16,830 wet tons of sludge. Fulton County Department of Solid Waste received $573,293 to accept the sludge.
The Dairy Industry accounted for 45.5% of the total O&M revenue collected. Together, FAGE USA Dairy Industry, Inc. and Euphrates Inc. pumped a total of 27.4 million gallons of whey and 210.7 million gallons of washwater to GJJWTF for wastewater processing via two dedicated pipelines.
A dedicated pipeline transports the whey to a 180,000-gallon equalization tank. Then, operators pump the whey directly to the Primary Digester at a constant feed rate. During the digestion process, the digester anaerobes produce large quantities of digester gas (~55% Methane). The Cogeneration System (consisting of COGEN-1, COGEN-2 and COGEN-3) combusts the digester gas to generate the electrical power used to self-power the facility. Any excess electricity is sold to National Grid per a Power Purchase Agreement.
The other dedicated pipeline transports 210.7 million gallons of dairy washwater from FAGE USA Dairy Industry, Inc. and Euphrates Inc. to the headworks of the Contact Adsorption Settling Thickening (CAST) System. CAST continued to successfully operate for all of 2020.
The foundation for success of GJJWTF is due to the support of the Gloversville-Johnstown Joint Sewer Board (GJJSB) and the work of its twenty-four (24) employees. As a result of the conscientious efforts by all GJJWTF employees on days, nights, weekends, holidays, during severe weather, the COVID pandemic and often in an inhospitable environment, the facility continues to operate and meet its wastewater discharge SPDES permit requirements.
The employee names (as of 12/31/20) are as follows :
| | | |
| --- | --- | --- |
| Barbara Allen | Matthew Handy | Richard Pedrick |
| Wallace Arnold | Reuben Kennedy | Donna Renda |
| Ricky Barnett | Mark Levendusky | Hilary Ruzycky |
| Steven Burns | David Malagisi | Victor Rzesos |
| Justin Cotter | Catherine Maragno | Michael VanAlstyne |
| Haleigh Dutcher | James McMillan | Christopher VanAuken |
| Bruce Gardner | Adam Mihalik | Christian Walters |
| Erich Goodemote | Lacie Newland | Robert Yaggle |
PERSONNEL
2020 Joint Sewer Board
Members – Chairman John Rizzo, Vice Chairperson Bobbi Trudel, Secretary Christopher Vose, Christopher Perry, Craig Talarico and Wrandy Siarkowski.

Board member Dale Trumbull resigned and was replaced by Gloversville DPW Director Christopher Perry.  

Moment of silence held in memory of former Board member Richard Handy who served eighteen (18) years on the Joint Sewer Board.
Licensed Operators
The total number of NYSDEC Grade 4A, 3A and 2A license holders at this facility totaled six (6).
Retirements

Thomas Ambrosino – Lead Operator - 30 years of service
Promotion
Operator Robert Yaggle promoted to Lead Operator.
New Hires

Justin Cotter joined the GJJWTF Staff as an Operator Trainee.

Victor Rzesos joined the GJJWTF Staff as an Operator Trainee.
Sick Days

Six (6) employees utilized three (3) sick days or less during 2020. The names of those employees are as follows:
Haleigh Dutcher
Catherine Maragno
James McMillan
Lacie Newland
Christopher VanAuken
Christian Walters


Work Related Injuries
One (1) work related injury reported in 2020, with no lost time from work.
Annual NYSDEC Inspection
On October 2, 2020, NYSDEC conducted the comprehensive SPDES plant inspection. The facility was rated in satisfactory condition.
Odor Complaints
A total of twenty-five (25) odor complaints were posted to the website in 2020.
Contract Renewals
Employee Assistance Program – St. Mary's Healthcare, one (1) year term;

Leachate/Sludge Agreement – Fulton County Depart. of Solid Waste, two (2) year term;

Municipal Sludge Disposal – Fonda-Fultonville Wastewater Treatment Facility, Village of Mayfield, Montgomery County Sanitary District No. 1, Village of St. Johnsville, and Town of Waterford, two (2) year terms;

Septic/Industrial Strength Waste Disposal – Precision Industrial Maintenance, two (2) year term;

Remediation Water - National Grid, three (3) year term.

Potassium Permanganate – Carus Corp. LLC, two (2) year term.

Polymer Dry & Emulsion - Solenis, two (2) year term.
New Waste Hauler
USA 1 Septic & Excavation
Miscellaneous
HVAC Upgrade Project – Stants Capital Combustion modified/installed Heating, Ventilating, & Air Conditioning equipment in the Administration Building, as part of the Capital Plan.

Water Research Project Manager participated in the Water Research Foundation Project 4892 in partnership with Kennedy/Jenks Consultants on the characterization of biogas from anaerobic digestion of wastewater solids and co-digested organic wastes.

NYSERDA FlexTech Study Arcadis presented on the NYSERDA FlexTech Study to evaluate the feasibility of installing a thermal sludge dryer to dewater biosolids prior to landfill disposal. Three (3) scenarios were proposed on the installation of a belt dryer or paddle dryer, building modifications, repurposing of biogas, energy consumption, and payback periods. Small scale bench testing of the Plant's sludge was accomplished with three (3) manufactures.

Plant Manager Arnold and Lead Operator Yaggle met with personnel from Biowaste Pyrolysis Solutions at the City of Schenectady Sewage Treatment Plant to view a pyrolysis sludge drying project. The project is 80% complete and equipment is not yet operational.

Adirondack Mechanical Corp. completed installation of a Peerless light commercial natural gas boiler in the Recirculation Building, as part of the Capital Plan.

Board ratified the 2020-2024 Bargaining Agreement by and between the Gloversville-Johnstown Joint Sewer Board and Teamsters Local 294.

Board accepted Amendment No.1 to Power Purchase Agreement No. 1824 between National Grid and Gloversville-Johnstown Joint Wastewater Treatment Facility.

CT Male discharged contaminated groundwater to the sewer system via manhole from a construction site located at the Family Counseling Center in Gloversville.

Liner separated in acid whey Tank No. 1. Tank was cleaned of all loose liner debris and inspected by American Structures, Inc. (ASI). No issues were found with the tank's stainless-steel panels.

Kaman Automation provided PLC programming for the Gorman Rupp pumps to maintain a constant washwater level within the modified headworks tank. This modified system continues to handle industrial fluctuations without upsets to the plant.

New phone system installed by First Light.

New Industrial Wastewater Discharge Permit issued to Palatine Dairy's new business – West Meadow Creamery, located in the former Spray Nine building at Route 30A in Johnstown.

Wood & Hyde Leather relinquished their Industrial Wastewater Discharge permit.

Third pump added to the potassium permanganate chemical feed system. Carus Corp. switched out the system's auger to a helical spring coil auger.

CAST Settling Tank was emptied to clean out a thick layer of dairy sludge and buildup of undissolved potassium permanganate.

Retention and Disposition Schedule for New York Local Government Records (LGS-01) was adopted for records management.

Fulton County Sewer District No. 4: Hales Mills Board approved request for flow allocation for the proposed Fulton County Sewer District No. 4 at Hales Mills from Travis Mitchell of Environmental Design Partnership, LLP on behalf of Fulton County.

Board adopted amended Trucked & Pumped Waste Rate Schedule effective January 1, 2021.

NYS Boiler Safety Bureau completed the two (2) year boiler inspection.
OPERATIONS AND MAINTENANCE
Several improvement projects were accomplished during 2020 with assistance from the Operations and Maintenance staff:
Assisted Milton CAT technician to replaced main crank shaft on COGEN-1.

Installed rebuilt head and turbo in COGEN- 3.

Major overhaul of COGEN-2 at Milton CAT. COGEN-2 returned to service.

Installed three (3) new belts on Belt Press No. 3.

Installed power meter (kW) in UV Disinfection Building to track seasonal kW usage.

Modified the CAST Headworks Building to reconfigure the flow of wastewater from dairy industries straight to the CAST process tank, which eliminated the wastewater EQ tank.

Installed new stainless steel 4" valve in whey vault due to leakage from Tank # 1 into Tank # 2.

Set up bypass at CAST headworks to allow for cleaning of the CAST EQ tank by Precision Industrial Maintenance. Redirected both Gorman Rupp pumps at CAST headworks to pump from the headworks tank to the process tank.

Installed new sludge belt and scrapers on Gravity Belt Thickener, GBT #1.

JDV Equipment installed a steel screw conveyor on Sludge Conveyor for the belt presses.

Installed new 36" exhaust fan in side wall of UV Disinfection Building to lower the humidity.

Installed 8-inch electronic ball valve to control sludge flow from the Digester to the Day tank.

Installed new flights, chains, and shoes in cross collector of Primary Tank #2.

Installed a work platform around CAST headworks tank.

Added an extension to the boiler in Administration Building to direct exhaust away from the air makeup system.

Replaced cracked 4-inch cast iron sewer pipe inside wall in Admin Building.

Installed new steel screw in conveyor # 2 of BDP presses.

Installed new drive shaft and bearings in blower of chemical air scrubber at the Gravity Belt Thickener.
GRANTS & LOANS
Received $84,893 from NYSDEC towards the UV Disinfection Construction Project.
COMPLIANCE MONITORING AND TESTING
Completed annual reviews of the Laboratory Quality Assurance, Test Method Standard Operating Procedures (SOP), Administrative/Quality Procedures, Monitoring and Field Activities, and Laboratory Chemical Hygiene manuals.
Laboratory Director completed the 2020 annual ELAP required internal laboratory audit.
NYS Department of Health's Environmental Laboratory Approval Program (NYS DOH ELAP) cancelled their bi-annual ELAP external audit for 2020 due to the COVID pandemic.
In January, GJJWTF lab staff passed the ELAP proficiency testing (PT). Proficiency testing for second half of 2020 was canceled due to COVID.
Through 2020, BOD blank depletions consistently exceeded the 2.0 mg/L depletion limit during analyses. The excessive depletion was traced to a burned-out heating element in the laboratory dish washer.
Laboratory Director conducted the annual ethics and data integrity training of all laboratory and monitoring personnel during December of 2020.
Changes in Volume and Type of Work:
Issued permits to 11 Industries in Johnstown and 11 industries in Gloversville for 2020,
West Meadow Dairy and Farm is now operating under a newly issued general permit.

Wood and Hyde Leather has relinquished their discharge permit.
The Significant Industrial Users received one (1) industrial violation in 2020, compared to thirteen (13) industrial violations in 2019; twenty-six (26) in 2018 and seventeen (17) in 2017.
GJJWTF issued no Consent Orders in 2020, two (2) Consent Orders in 2019 versus four (4) in 2018 and none in 2017.
TOTAL WASTEWATER FLOWS
Historically, the total flow of Influent wastewater to the Plant is relatively constant.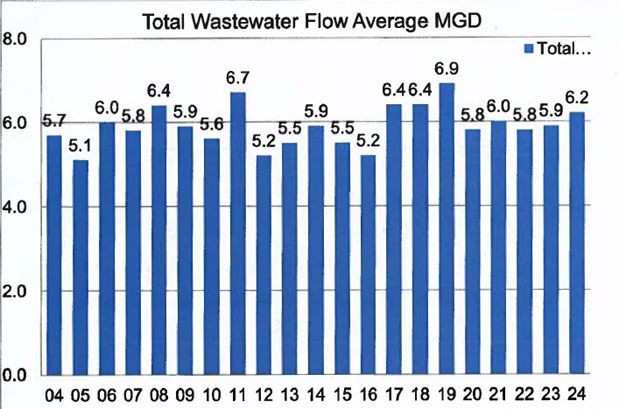 Total Industrial Flows decreased 10.4% in 2020.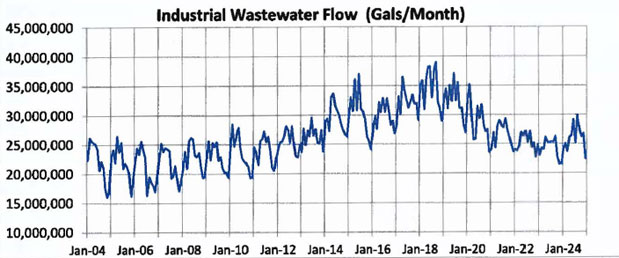 Industry: Total Suspended Solids (TSS) increased 6.5% in 2020.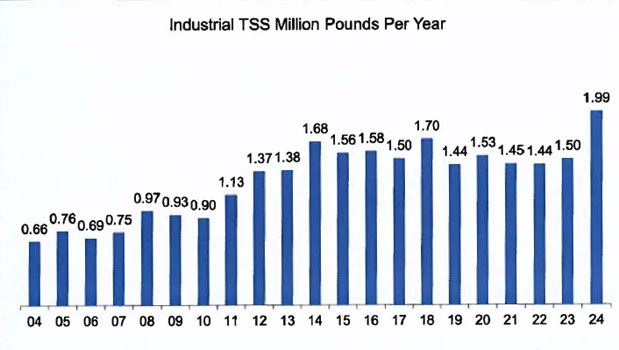 Industry: Biochemical Oxygen Demand (BOD) decreased 1.5% in 2020.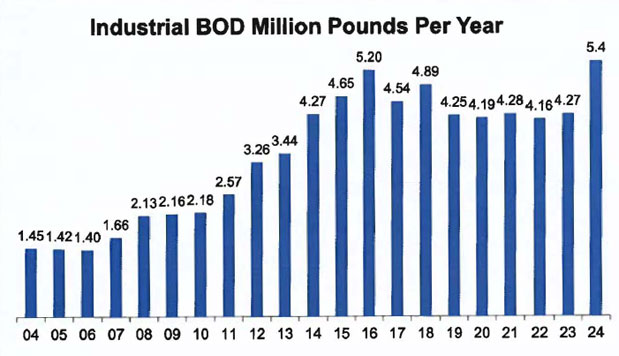 Industry: Total Kjeldahl Nitrogen (TKN) decreased 15.2% in 2020.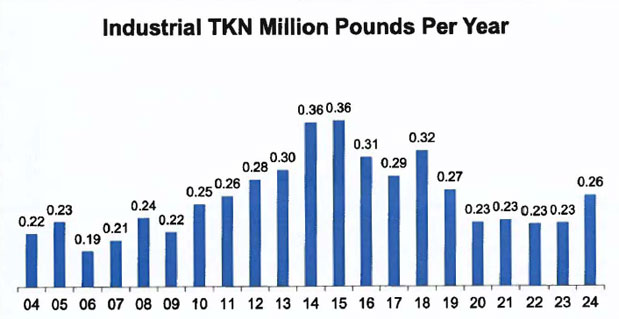 Finally, in order to measure the relative strength of the industrial waste, staff developed a formula that combines TSS, BOD and TKN data. The resulting value, Industrial Index, provides a single numeric number. The Industrial Index decreased 1.2% in 2020.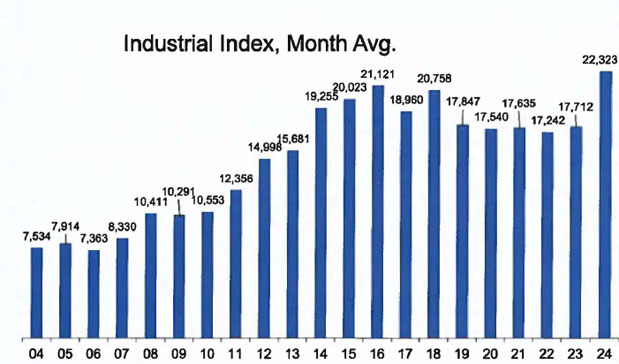 Overall, Industrial wastewater conveyed to GJJWTF via the sanitary sewer decreased in 2020.
However, the industrial index system does not incorporate the following waste streams:
Whey directly piped to the anaerobic digesters;

Dairy washwater directly piped to the CAST System;

National Grid remediation discharges;

Fulton County Department of Solid Waste's Leachate.
As shown in the graphs, industrial loadings to GJJWTF significantly decreased over the previous year. Total Industrial Flows decreased 10.4%. Total suspended solids (TSS) increased 6.5%. Biological Oxygen Demand (BOD) decreased 1.5%. Total Kjeldahl Nitrogen (TKN) decreased 15.2% in 2020.
With the CAST Project fully operational, the dairy washwater loadings for TSS, BOD and TKN are captured by the influent sampler at the CAST headworks. The CAST supernatant, greatly reduced by 50% to 70% of the dairy washwater loadings, directly flows to the primaries. As required by permit, the dairy washwater flow is added to the Plant headwork's recordable daily influent flow.
PLANT LOADINGS
2020 Industrial loadings (Total, Includes Dairy):
2020 Dairy Loadings:
FLOW:
347,223,197 gals
212,414,295 gals
BOD:
4,187,994 lbs
3,616,652 lbs
TSS:
1,529,652 lbs
1,243,496 lbs
TKN:
230,317 lbs
143,996 lbs
The FAGE dairy washwater strengths are as follows:
| | | |
| --- | --- | --- |
| BOD | TSS | TKN |
| (mg/L) | (mg/L) | (mg/L) |
| 1939 | 702 | 77 |
The Euphrates dairy washwater strengths are as follows:
| | | |
| --- | --- | --- |
| BOD | TSS | TKN |
| (mg/L) | (mg/L) | (mg/L) |
| 4304 | 1006 | 186 |
Dairy accounts for:
61.2% of Industrial Flow
81.3% of Industrial TSS
86.4% of Industrial BOD
62.5% of Industrial TKN.
CAST
Contact Adsorption Settling Thickening Project (CAST) continues to reduce the overall wastewater load on the facility's Aeration System. During 2020:
CAST removed 43.3% of the dairy washwater COD load and 35.7% of the TSS load to the facility.
Consequently, CAST greatly reduced the plant's overall load relative to design:
CBOD daily loadings (lbs/d), averaged monthly, equaled 35.2% of GJJWTF's designed CBOD load. February was highest at 45.3% of design load. November was lowest at 29.9% of design load.

TSS daily loadings (lbs/d), averaged monthly, equaled 41.0% of GJJWTF's designed TSS load. February was highest at 46.1% of design load. December was lowest at 33.8% of design load.

TKN daily loadings (lbs/d), averaged monthly, equaled 15.6% of GJJWTF's designed TKN load. February was highest at 19.8% of design load. October was lowest at 11.4% of design load.
Since the Wastewater Plant continues to operate below its design load, GJJWTF can accept future wastewater loads from the community at large and industry/businesses, as well.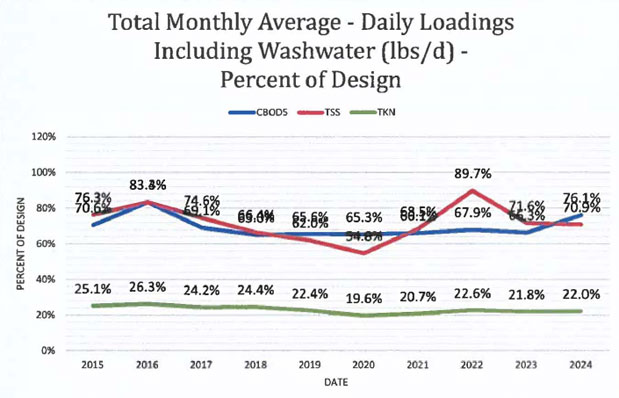 LEGAL/MISCELLANEOUS
The Gloversville-Johnstown Joint Sewer Board (GJJSB) continued contracting for legal services from the Glens Falls based law firm Miller, Mannix, Schachner, & Hafner, LLC (MMSH). MMSH specializes in environmental issues.
ENVIRONMENTAL
Enforcement of the New York State Department of Environmental Conservation (NYSDEC) State Pollutant Discharge Elimination System (SPDES) permit continues. This stringent effluent permit regulates the discharge limits of a multitude of parameters measured on a daily, weekly, monthly and/or annual basis.
GJJWTF reported no non-compliance events in 2020.
GJJWTF exercised one (1) NY-Alert Notifications during 2020.
On June 4, 2020, National Grid experienced a power surge that resulted in loss of power to the Facility and the disruption of UV disinfection treatment for approximately 51-minutes.
GJJWTF received an extension to NYSDEC's Conditional Approval on a Pilot Basis to continue using Potassium Permanganate for CAST system odor control in 2020.
OPERATIONS
The year-to-year removal efficiency rates for the GJJWTF are as follows:
| | | | | | | |
| --- | --- | --- | --- | --- | --- | --- |
| Parameters | 2015 | 2016 | 2017 | 2018 | 2019 | 2020 |
| Total Suspended Solids | 97% | 98% | 95% | 97% | 97% | 97% |
| Biochemical Oxygen Demand | 99% | 99% | 98% | 98% | 98% | 98% |
| Total Kjeldahl Nitrogen | 92% | 92% | 91% | 93% | 92% | 93% |
As shown in the Table, the TSS and BOD removal efficiencies are greater than the permitted removal rate of 85% prior to discharge to the Cayadutta Creek.
Belt Filter Presses (BFPs) operated 3,595 hours producing 16,830 wet tons of sludge. During 2020, sand and/or dried sludge was blended into the sludge cake to meet the minimum 20% solids landfill disposal requirement.
Together, the BFPs and Gravity Belt Thickeners (GBTs) utilized 37,000 pounds of polymer (0.1%,↑). In addition, the BFPs used another 8,196 gallons of an emulsion polymer (1.4%,↑) to enhance sludge dewaterability.
During 2020, the GJJWTF purchased 33,529 gallons of Ferrous Chloride (6.1%,↑) to control sulfides at the anaerobic digesters. GJJWTF also purchased 32,618 therms of Natural gas to heat various buildings (25.0%,↓).
BACKFLOW PREVENTERS
Adirondack Mechanical Corporation tested all backflow preventers on-site. The nine (9) backflow preventers currently working as designed to keep the Plant effluent from entering and contaminating the City's drinking water supply. All backflow preventers passed.
SULFA-TREAT VESSEL
Precision Industrial Maintenance removed and discarded the spent media (IP4 from NiChem Company) which scrubbed the digester gas of hydrogen sulfide gas. The IP4 media lasted from 10/26/19 to 9/25/20 or 335 days.
LEACHATE
GJJWTF processed 14.6 million gallons of leachate in 2020. This represented an 23.6% decrease compared to 2019. The Fulton County Landfill pumps leachate to the facility via a dedicated six (6) mile long force main.
RENEWABLE ENERGY – CLIMATE CHANGE
The Dairy Industry pumped 27,351,804 gallons of whey via a dedicated pipeline directly to two (2) whey storage tanks located at GJJWTF. From these tanks, operators pump the whey at a constant feed rate to the anaerobic digesters. Then, anaerobic bacteria break down the whey and expire large quantities of digester gas (~ 53.8% Methane and 42.4% Carbon Dioxide).
A direct result of GJJWTF's cogeneration philosophy is the significant reduction towards our carbon footprint and our contribution to climate change. The Anaerobic Digesters produced 161.5 million cubic feet of biogas from the whey, CAST Washwater Settleable Solids, Primary Sludge and Waste Activated Sludge.
GJJWTF's biogas generators combusted 79.7% of this biogas to generate 6.25 million kilowatt hours of electricity. In terms of climate change, our electrical production meant that less energy was required from fossil fueled power plants.
The biogas generators (COGEN-1, COGEN-2 and COGEN-3) are rated at 1.10 megawatts. GJJWTF generated 6,254,947 KW (4.4%,↑), sold 1,297,362 KW (2.5%,↓) and purchased 189,624 KW (29.2%,↑) in 2020. GJJWTF consumed 5,147,209 KW (7.1%,↑).
The dairy COD strengths for whey are as follows:
| | | |
| --- | --- | --- |
| FAGE | Euphrates | Blended |
| (mg/L) | (mg/L) | (mg/L) |
| 56,597 | 117,352 | 62,244 |
FAGE's yogurt product creates a relatively low COD strength whey byproduct. Euphrates' feta cheese product creates a relatively higher COD strength whey byproduct.
ULTRA-VIOLET (UV) DISINFECTION PROJECT
In 2020, the UV Disinfection system successfully operated from May 1, 2020, to Oct 31, 2020 per GJJWTF's SPDES Permit. No Notice of Violation (NOV) were issued for high fecal coliform concentrations. However, there was one (1) New York Alert declared for June 4 for a loss of power for 51 minutes as described earlier in this report.
HEAT EXCHANGER PROJECT
In 2018, GJJWTF purchased a 3.5 Million BTU per hour, shell & tube, sludge heat exchanger. The new heat exchanger replaced the old spiral heat exchanger.
During the winter months, cooling water from CAT-1 and CAT-2 supply the necessary hot water to maintain the temperature of the anaerobic digesters. The optimum temperature for GJJWTF's anaerobic digester is 98.6⁰F (Body Temp). During past winter seasons, the digester temperature had dropped to as low as 87.5⁰F. At 85⁰F, the anaerobe bacteria in the digester cease. The new heat exchanger should maintain the optimum temperature and transfer enough heat to raise the temperature of the digester under winter conditions.
For 2020 and 2019, the Primary Digester's average temperature was 97.4⁰F. The Heat Exchanger performed very well.
Electricity Profile at GJJWTF: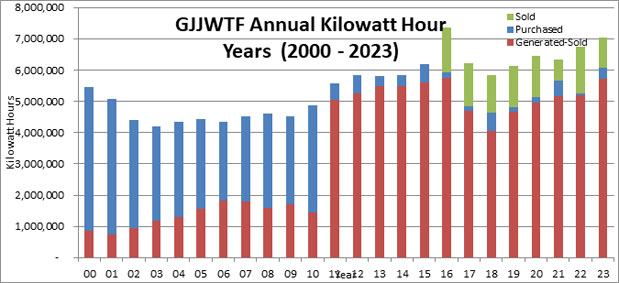 "Green" Power Profile Curve (Percent):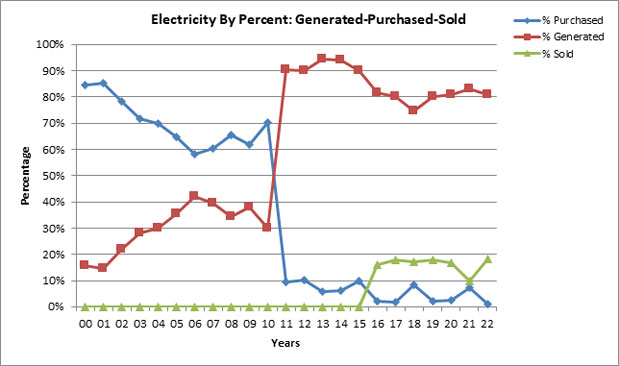 Electrical Power Consumption at GJJWTF: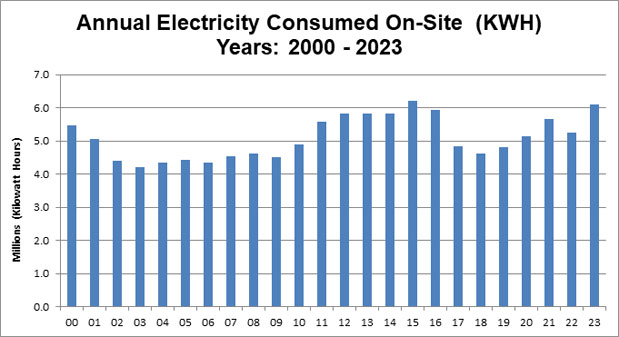 FINANCE OFFICE:
The 2019 Financial Audit Summary from Bollam, Sheedy, Torani & Co. disclosed no issues of noncompliance, and no alternative procedures or corrective actions were suggested.
O&M revenues totaled $4.1 million during 2020. The Industrial contribution was 53.1%, Residential 27.6%, and Trucked/Pumped waste and miscellaneous revenue totaled 21.1%.

Residential rates have remained low since 2000.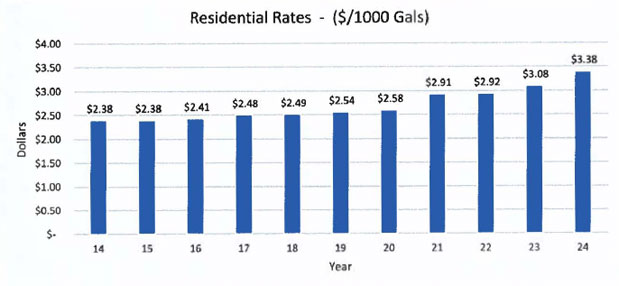 Continued marketing to make surrounding communities and entities aware of what our facility has to offer proved beneficial during 2020. For 2020, trucked & pumped waste receipts totaled $807,221. The single largest trucked waste contract was Adirondack Septic.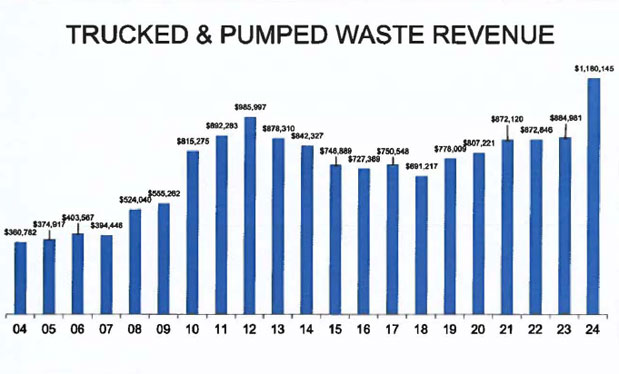 SEWER RATES
Sewer rates were adopted after a public hearing. Overall sewer rates for users increased 2%.
INDUSTRIAL USE
O&M revenue from industrial users decreased 0.2% in 2020. FAGE USA Dairy Industry, Inc. ranks as the Number 1 user. Euphrates Inc. fell from the second to third largest user of the wastewater facility.
Septic Haulers were the second largest user of the wastewater facility. Three (3) trucked waste accounts (Adirondack Septic, Cosselmann Septic and DeJong Septic) in the Septic Haulers category and one (1) leather industry (Colonial Tanning) were in the top ten of revenue producers.
Fulton County Landfill, Hale Creek ASATCA and National Grid remediation site round out the top ten largest customers of the facility in 2020.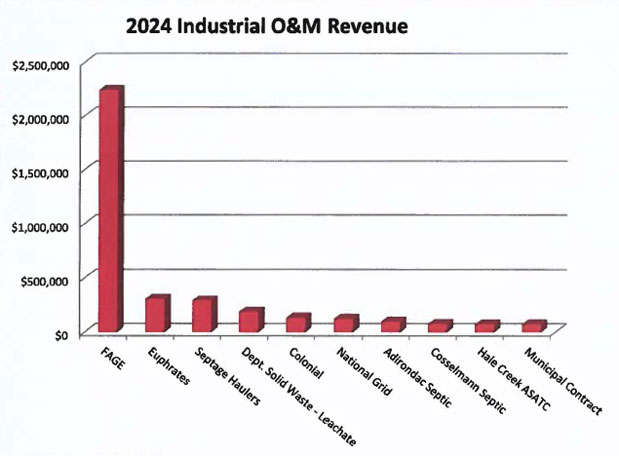 Install CAST Odor Control Line
Work Platform CAST Headworks
COGEN 3 Top End Overhaul
Cleaned 600,000-gallon CAST EQ Tank
Wet Vac of Transfer Basins On-Site
UV Disinfection Extended Module
Removing Cracked Sanitary Pipe from Administration Building (4" Cast Iron Pipe Vent)
Return To Top